Task management system appears to be essential to employee success and determines how well managers control task performance and lead collaborative effort of their subordinates. In every organization employees need to plan and manage various tasks to carry out their duties and responsibilities. With help of VIP Task Manager the personnel of your company can keep and view all of their assignments in one shared database. This computer program lets practice efficient project management, receive email notifications and reminder, create collaborative calendars, plan recurring activities, duplicate templates, and enjoy simple customization.
Practicing Efficient Project and Task Management
Efficient project management in combination with task management will make any business organization prosperous and growing. This idea is embedded in the functionality of VIP Task Manager. At the center of this task management system there are two entities 'task' and 'group' which let you break down projects into hierarchies consisting of multiple groups and tasks. The system allows you to organize project tasks by groups that flow smoothly through your projects and related processes. Each task can be specified by a number of properties including Priority, Status, % Complete, Due Date, etc. For groups you can set such fields as Workflow, Notes, Attachments and more. All of your project data will be kept in one database.

Getting Change Notifications and Reminders
| | |
| --- | --- |
| To keep all interested parties informed of the latest updates in the database and upcoming events, VIP Task Manager sends simple, easy-to-understand email notifications on important tasks, scheduled reminders, and status changes. Such notifications contain all the necessary data to keep team members and their management up to date about everyone's progress. Notification messages and reminders can also be set to come up as bubble alerts right on users' desktop. You can select which users should receive reminding alerts and status updates. | |
Managing Resources
Resources are users who have their accounts in the database and these accounts can be associated with tasks, schedules and groups to point out what assignments the users need to carry out. The Resources List view provides the details of each user's account, including Name, Email, Phone, Job Title, Department, and more. After you create a new resource, you can assign tasks and groups to this resource. Also you can set permissions, role and notification events for this resource in the task management system. If you want the resource to be a supervisor for other users, you can include the resource in the Watch List for those users.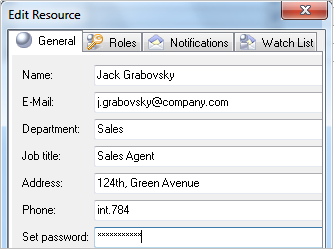 Using Collaborative Calendars
The flexible Calendar view in VIP Task Manager allows you to quickly access another user's shared calendar to see availability of tasks for today and to schedule future assignments for that user. You can display several user calendars on one screen. The Date Navigator will help you switch your schedules to needed date. Alternatively, you can use daily, weekly and monthly views to get the best display of your calendars. Permissions lets control user access to collaborative calendars, so that users can see only the calendars that they have been given appropriate permission to work with.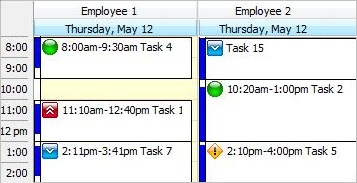 Setting Recurrence Patterns
| | |
| --- | --- |
| | Daily phone calls, weekly status meetings, monthly reports, regular maintenance tasks, periodic audits, annual reviews or any other repeating events and activities are all easy to plan and accomplish without fail through VIP Task Manager's task recurrence feature. You can access the Recurrence Options to specify when each task should be scheduled and how often it should repeat. After your tasks get the state 'Completed', the task management software will automatically create new tasks at the specified times, according to your recurrence pattern. In case you are late to complete one of your tasks you can use the Rollup Recurrence option to move this task on to the next occurrence. |
Creating a Contacts Base
The contact details of customers, partners and suppliers can be stored in task management system and managed in the Task List view. This view lets you use groups and tasks to create contacts and organize them into detailed hierarchies. Tasks and default attributes (such as Name, Priority, Status, Notes, etc.) can be regarded as clients and their contacts. Also you can create custom (user-defined) fields to specify your contacts by more details. For example, your contacts base can be organized into a hierarchy with the root group 'Contacts' and multiple contacts (tasks) inside this group. Each contact can be specified by such default and custom fields as Name, Status, Priority, Email, Product, and Type.

Duplicating Task Templates
| | |
| --- | --- |
| Managing sample tasks in VIP Task Manager is made easier and quicker with help of templates and duplication. You can combine your tasks into a group and then duplicate this group and its content when you need to plan and manage these tasks again and again. For example, you can keep all of your project tasks in one group 'Project Template'. Then use the Duplicate option to copy the tasks when you begin a new sample project. When duplicating, you can set the parent group for your tasks, shift the tasks' Start or Finish time, and also copy existing permission rules. | |
Visualizing Task Data with Charts
Visualization of task data lets present the information in a way which allows you to examine your tasks and look for interesting points and trends. Data visualization should be beautiful, elegant and descriptive. The Charts panel in VIP Task Manager lets you visualize your tasks with help of several diagrams, incl. Column, Bar, Line and Pie diagrams. You can select which data to include in the graph. For example, you can create Column diagram that visualizes Estimate Time and Actual Time of your tasks.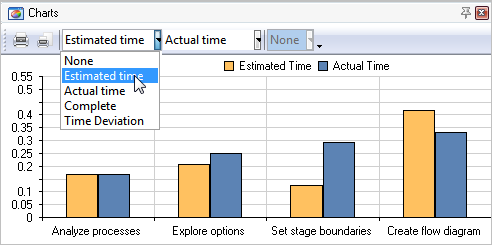 Customization in Task Management System
To ensure that your employees take full advantage of the functionality in VIP Task Manager, you can customize tasks and workflows in the database. The task management system offers the customization capability that lets you create new task fields and specify new task states and workflows.
In the Custom Fields option, you can create a new field and specify it by Title, Type (Integer, Float, Currency, etc.) and Formula (an expression for calculating selected values). For example, a custom field 'Cost' can be of 'Currency' Type with Formula that calculates the cost on the basis of Tariff and Quantity.

In the Custom Workflow options, you can add a new workflow and create new statuses that specify tasks at each stage of their lifecycle. For example, for sales-related tasks a custom workflow 'Sales' can be created and new statuses 'Created', 'In Progress', 'Paid', 'Put on Hold', and 'Completed' can be added.