Time management software for business provides a systematic, priority-based approach to planning, scheduling, allocating, tracking and analyzing working hours of employees. Companies use such software to plan and run their business projects effectively and always on schedule. VIP Task Manager can help your organization to follow best practices of managing time. Particularly, this business program will let you plan employee time, develop job schedules, and keep track of time performance.
Time management appears to be a challenging process that involves budgeting, tracking and reporting on working hours and minutes of personnel. Companies want to manage their time effectively because time is a limited resource that cannot be retained or restored. When there is no enough time, businesses suffer from lower performance and fewer results achieved. Managing time inefficiently makes employees delay their work, be overcommitted, and break project deadlines.
Employee Time Planning and Scheduling
Employee time planning starts with identifying individual tasks that make up daily workload of employees. These tasks are considered in two interrelated aspects such as Value and Duration. Value determines the individual contribution an employee needs to provide, and Duration states the required period for the employee to complete the task and bring the value. Managers need to account for both aspects to effectively plan employee tasks and then add these tasks to individual calendars for further job scheduling.
Set Priorities to Highlight Task Values
| | |
| --- | --- |
| Because different tasks have different values, it is important for workers to know what tasks they need to complete first. Prioritization is the best way to show your employees in what preferred order they need to do their jobs. By setting task priorities you can ensure that your personnel will organize their workday according to the assigned values. For instance, our time management software lets you set several different priority levels (from Lowest to Urgent). All tasks can be grouped and filtered by the Priority column, so that it will be easier for your employees to focus on the most urgent assignments. | |
Create Calendars to Schedule Task Durations
After task values are highlighted with respective priorities and so now employees know in what sequence they need to do their jobs, managers need to schedule duration for each task and create individual calendars. With help of time management software you can use drag'n'drop functionality to manage employee schedules and set job durations. For example, VIP Task Manager lets you add new tasks right in the Calendar view and then allocate these tasks across multiple user calendars. Tasks can be resized on employee schedules, and time ruler will help you set proper durations.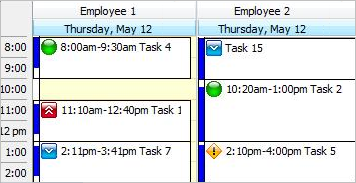 Tracking and Reporting on Time Allocation
The process of tracking and reporting on time allocation is often underestimated in its complexity. First, tracking involves you in monitoring any change made to existing schedules, and then reporting requires you to analyze the schedule data and develop a summary of all changes made and results obtained. Moreover, as your business grows and develops, new challenges come up (e.g. new people employed, due date shortened, more tasks added, etc.) yet you still have to keep the schedules accurate and relevant. And your report should provide up-to-date information on time performance and point out whether working time has been allocated right or wrong.
Keep Track of Task Due Dates
A due date tells a worker a final date that an assigned task should be completed by. Using due dates in job tracking is a best practice of time management that lets set realistic deadlines for activities, detect delays early, and also prevent laziness. Managers set due dates to keep their subordinates on track and to measure time performance. Workers can use due dates to clearly understand what time is remaining till the moment when their tasks must be done. Overdue tasks (or tasks with missed due dates) can be assigned to higher priorities to switch employees to their delays and procrastination.
| | |
| --- | --- |
| | Task due dates in VIP Task Manager can be easily tracked in the Task List view. The quick filter in the Due Date column lets filter due dates by various period, for example you can set 'Today' and the time management program will display tasks that are due today. If you want to see tasks that were due 30 or 7 days ago, you can set the quick filter for 'Last Month' or 'Last Week' accordingly. Overdue tasks are highlighted with red (you can set custom color). |
Enjoy Advanced Reporting and Analytics on Time Performance
Advanced reporting on time management as well as data-rich performance analytics will help you get a factual record of all changes occurred in your schedules and calculate total time performance achieved by your workers. VIP Task Manager provides the Task List to create and print out reports in spreadsheet-like. The software also lets export report data into popular formats including Excel and HTML.
VIP Task Manager as Time Management Software
You can create a report that shows time deviation calculated on the basis of the related fields 'Estimated Time' and 'Actual Time'. A positive deviation points out that your workers do their job faster than it's been expected by 'Estimate Time'. A negative deviation tells you that your plan is too optimistic and/or that your employees do their tasks slower than expected. And a zero deviation proves that your time management reaches a balance point so your plans are fully covered by actual performance. The Charts panel lets you build a graph representation of the data to visualize your report. For example, the segments of Pie chart can represent deviation values of selected tasks.